02.09.2014, 12:23
Open letter to Obama: 200 Baltic public figures ask for permanent bases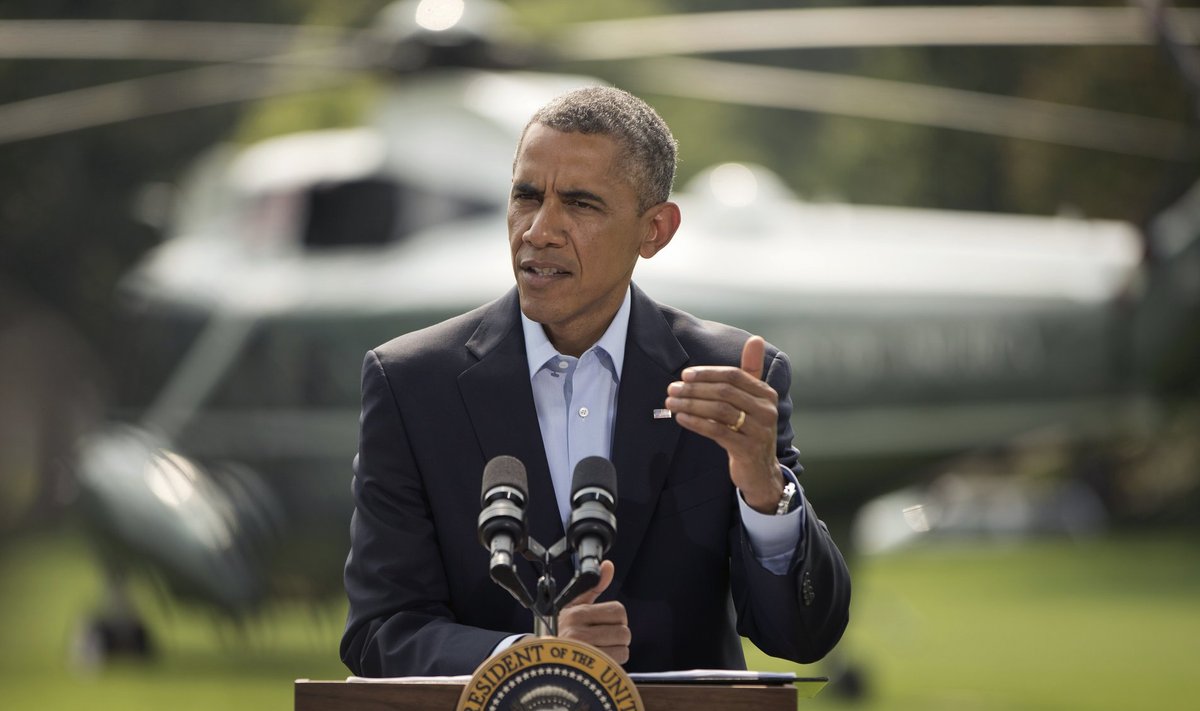 In an open letter to the US President Barack Obama, 200 public figures from Estonia, Latvia, and Lithuania ask for permanent presence of NATO troops in the Baltic states.
Address to Barack Obama, President of the United States of America
Twenty-five years have passed since the three Baltic nations joined hands to demonstrate to the world their commitment to the independence of their countries and their belief that historical injustice can be righted by peaceful means. A human chain stretching 600 kilometers joined some two million people. This demonstration of solidarity attracted the global attention and remains one of the most powerful images in the history of the liberation of Central and Eastern Europe from communism.
Yet, as our countries celebrate the 25th anniversary of this proud moment in their history, our people are painfully aware that these principles, which are the cornerstones not only of a democratic society but also of a just international order, are being violently assaulted right here on our continent, in Europe. Not far from our borders, the sovereign state of Ukraine has seen its territories occupied, its armed forces attacked and its peaceful civilians killed. All this is happening because Ukraine has asserted its right to follow the same path which the Baltic states marked out in the Baltic Way, and the global community is watching in silence while Russia is breaking international agreements.
This conflict touches all of us, because Russian aggression against Ukraine is a threat not just to that country. It contains Russian aim to restoration of the USSR and will undermine peace and prosperity in all of Europe, because its goal is the return of the territories and spheres of influence once possessed by the Soviet Union. Today, Ukraine is fighting not only for its territorial integrity, but for the liberty and inviolability of the borders of entire Europe. The free world should take determined action in this struggle.
Since the fall of communism, The United States have worked hard to consolidate security and democracy in Europe. This policy also embodied our country's principled stance.
Mr. President, we hope that at this crucial juncture you will continue taking an emphatically unambiguous stand and defending the vision of a free Europe, and that we will avoid the bleak prospect of a Europe tormented by war.
Twenty-five years ago, the Baltic States freed themselves from occupation. Today, they are on the front lines in the struggle for the future of Europe. Russia's overt neo-imperialism cannot but makes us fear that we are potential objects of its expansionist dreams.
The Baltic States have always felt a special tie with the United States and a strong sense of gratitude for its role in helping them restore and consolidate their independence. It was the United States that first declared the policy of non-recognition of our countries' annexation in 1940 and adhered to it throughout the long years of occupation. It was the United States that played an instrumental role in the negotiations on the withdrawal of Russian troops from our countries. It was the United States that gave us much needed support on our path to joining NATO.
We, the undersigned signatories to the declarations of restoration of independence of Lithuania, Latvia, and Estonia, firmly believe that this bond between our countries remains unbroken and that any attack on us will be met by a comprehensive military response from the Alliance. Faced with a threat of aggression, we are calling on you to ensure the permanent presence of troops from allied countries on our territory. The safety and freedom of all of Europe depend on it.
In 1963, US President John F. Kennedy declared in Berlin "Ich bin ein Berliner" and by so doing confirmed that all free men, wherever they may live, are citizens of Berlin. He understood that the future of the free world was intimately linked with the fate of that small island of liberty surrounded by a sea of oppression.
A commitment now to the defense of the Baltic States is a commitment not only to our mutual security, but also an affirmation of faith that our common principles of freedom, justice and self-determination will ultimately prevail over oppression and violence.
Please accept the expression of our sincere consideration,
Members of the August 20th Club, Members of the Supreme Council of the Republic of Estonia who carried out the will of the people and adopted the Resolution on the National Independence of Estonia on 20 August 1991:
Arnold Rüütel – Chairman of the Supreme Council of the Republic of Estonia
Mati Ahven
Ignar Fjuk
Liia Hänni
Rein Järlik
Viljo Jürjo
Hillar Kalda
Johannes Kass
Kalju Koha
Mai Kolosov
Jüri Kork
Toomas Kork
Heino Kostabi
Ahti Kõo
Ants Käärma
Marju Lauristin
Jaan Lippmaa
Alar Maarend
Tiit Made
Aavo Mölder
Heldur Peterson
Priidu Priks
Koit Raud
Andrus Ristkok
Tõnu Saarman
Hanno Schotter
Lehte Sööt-Hainsalu
Indrek Toome
Enn Tupp
Ain Tähiste
Ants Veetõusme
Rein Veidemann
Vaino Väljas
Signatories to the March 11 Act on Restoration of the Independence of Lithuania:
Vytautas Landsbergis – President of the Supreme Council of the Republic of Lithuania
Aleksandras Algirdas Abišala
Nijolė Ambrazaitytė
Laima Liucija Andrikienė
Vytenis Povilas Andriukaitis
Irena Andrukaitienė
Leonas Apšega
Mykolas Arlauskas
Rimantas Astrauskas
Vilius Baldišis
Julius Beinortas
Vladimiras Beriozovas
Egidijus Bičkauskas
Audrius Butkevičius
Virgilijus Juozas Čepaitis
Arūnas Degutis
Juozas Dringelis
Algirdas Endriukaitis
Balys Gajauskas
Eugenijus Gentvilas
Bronislovas Genzelis
Miglutė Gerdaitytė
Petras Giniotas
Eimantas Grakauskas
Romas Gudaitis
Romualda Hofertienė
Gintautas Iešmantas
Vladimiras Jarmolenko
Albinas Januška
Vidmantė Jasukaitytė
Zenonas Juknevičius
Jurgis Jurgelis
Česlovas Juršėnas
Virgilijus Kačinskas
Juozas Karvelis
Vytautas Kolesnikovas
Stasys Kropas
Algirdas Kumža
Bronislovas Juozas Kuzmickas
Kęstutis Lapinskas
Mečys Laurinkus
Arvydas Kostas Leščinskas
Jonas Liaučius
Stasys Malkevičius
Leonas Milčius
Albertas Miškinis
Donatas Morkūnas
Kazimieras Motieka
Algimantas Norvilas
Česlavas Okinčicas
Romualdas Ozolas
Nijolė Oželytė-Vaitiekūnienė
Justas Vincas Paleckis
Jonas Pangonis
Algirdas Vaclovas Patackas
Saulius Pečeliūnas
Eugenijus Petrovas
Vytautas Petras Plečkaitis
Jonas Prapiestis
Vytautas Puplauskas
Liudvikas Narcizas Rasimavičius
Rasa Rastauskienė-Juknevičienė
Liudvikas Saulius Razma
Kęstutis Rimkus
Audrius Rudys
Liudvikas Sabutis
Kazimieras Saja
Aloyzas Sakalas
Algirdas Saudargas
Algimantas Sėjūnas
Liudvikas Simutis
Česlovas Vytautas Stankevičius
Rimvydas Raimondas Survila
Saulius Šaltenis
Lionginas Šepetys
Gediminas Šerkšnys
Albertas Šimėnas
Jonas Šimėnas
Aurimas Taurantas

Vladas Terleckas
Pranciškus Tupikas
Kazimieras Uoka
Gediminas Vagnorius
Birutė Valionytė
Povilas Varanauskas
Emanuelis Zingeris
Vidmantas Žiemelis
Members of the Supreme Council of the Republic of Lithuania:
Rūta Gajauskaitė
Klemas Inta
Stasys Kašauskas
Vytautas Kvietkauskas
Nikolajus Medvedevas
Petras Papovas
Members of the Supreme Council of the Republic of Latvia who adopted the Declaration of the Mai 4th:
Juris Karlsons
Velta Čebotarenoka
Jānis Vaivads
Ints Cālitis
Visvaldis Mucenieks
Arnolds Bērzs
Pēteris Simsons
Aleksandrs Kiršteins
Ivars Briedis
Jānis Dinevičs
Jānis Blaževičs
Mārcis Cīrulis
Emerita Buķele